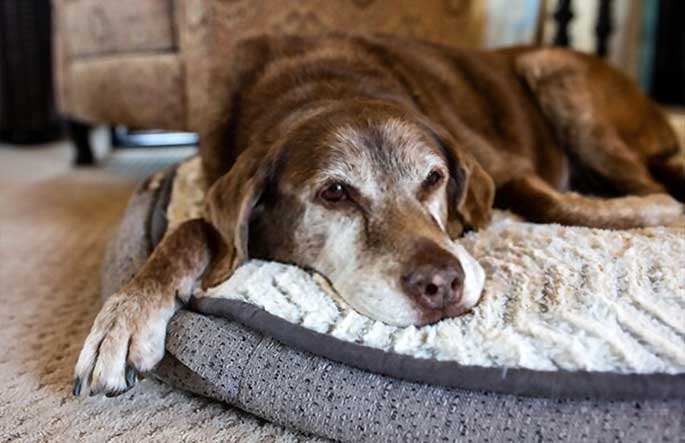 PetDogPlanet.com is an Amazon Associate, and we earn from qualifying purchases.
Aging is not a death sentence for our dogs, just as it isn't for humans. Aging just requires the pet parent to make accommodations for their beloved dog.
You are your dog's first line of defence when it comes to their healthy aging; this is especially true if your dog is healthy and only needs to see the veterinarian annually for their check-up. If you see your dog hesitating before they go up or go down the stairs, they may just need a reassuring hand on their back to let them know you're there.
When dog's age, they can begin to get joint pain. This is a natural process. It is very common for senior dogs to get arthritis especially after 10 years of age.
So if you are looking for preventative measures or after the fact, here is a list of 7 joint supplements to try.
Last update on 2023-12-10 / Affiliate links / Images from Amazon Product Advertising API
Please note: We are not professional veterinarians, these are just our opinions. Please consult a healthcare professional when administering any medication to your pet.
7 JOINT SUPPLEMENTS FOR SENIOR DOGS
Extend Joint Supplements

– Extend™ Joint Care provides natural building blocks for growth, repair and maintenance of cartilage, thanks to a newly-discovered, extra-absorbable form of Glucosamine. It begins working immediately to lubricate joints, help cartilage retain water and prevent future breakdown.

Zesty Paws Turmeric Curcumin Bites

– These are chewable supplements that feature Qmin+™, BioPerine®, and a blend of premium ingredients that provide the nourishment dogs need to enjoy healthier and happier lives.

YuMOVE Hip & Joint Supplement for Dogs

– This premium joint supplement for dogs soothes stiffness, supports long-term joint health and helps mobility. It's proven to work in just 6 weeks*, thanks to ingredients like the world's top strength, cold-extracted ActivEase ® Green Lipped Mussel and Glucosamine for dogs.

Flexadin Plus Joints & Flexability Chewable Tablets

– This is an innovative supplement that supports healthy joints and flexibility. Flexadin Advanced features UC-II ®, an undenatured type II collagen derived from chicken cartilage sternum. It is different from traditional supplements that contain glucosamine and chondroitin, in that it's only one chew per day for any dog or cat and works differently to target the pet's immune system.

Dasuquin Soft Chews For Dogs

– Dasuquin Advanced is our most complete joint health supplement for dogs. It contains the same trusted ingredients found in Dasuquin, the #1 joint health brand recommended by veterinarians*, enhanced with a proprietary blend of ingredients to provide an approach involving several physiological mechanisms helping to support and protect your dog's joint health.

Natural Joy Full Spectrum CBD Oil For Pets

– Rich in essential fatty acids omega-6 and omega-3 as well as potassium, magnesium, iron, zinc, calcium, and phosphorus which may help improve your pet's immune system and heart. Crafted in FDA Registered Food Facility that is cGMP-compliant so they are safe for your pet. They will no longer have to struggle up the stairs due to lack of joint mobility.

Synthovial Seven Natural Joint Support

– Although originally meant for humans, this has been used on dogs to help with joint pain. This is an oral solution made from premium grade Hyaluronic Acid with high molecular weight. Hyaluronic Acid (HA) exists naturally in all living organisms. In the body, it is found in greater concentrations in the synovial fluid of joints for lubrication, the vitreous humor (fluid) of the eye and, most abundantly, in the skin. Simply, it lubricates joints and cartilage.
WE'D LOVE TO HEAR FROM YOU!
What joint supplements do you give to your senior dog? This list above is by no means comprehensive. There are plenty of more solutions to our senior dog's joint pain. Let us know below in the comment section!