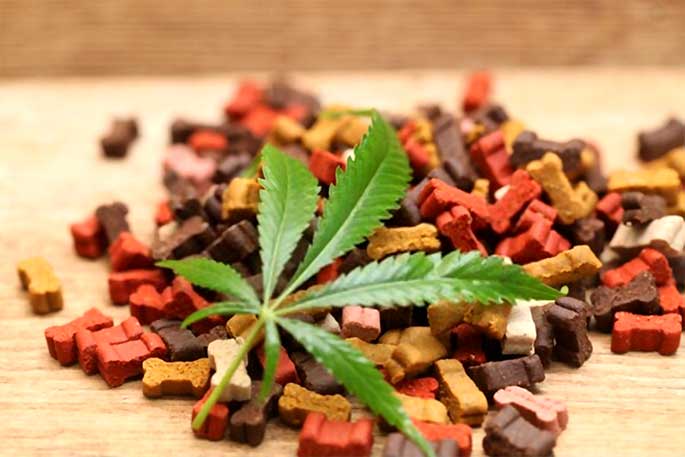 PetDogPlanet.com is an Amazon Associate, and we earn from qualifying purchases.
There has been a lot of confusion, debate, and questions related to the safe consumption of CBD products by humans and animals. In this article, however, the focus is solely on the safety of our canine friends—dogs!
You wouldn't want your dog to get sick often. Even so, our fur balls suffer from various problems, including anxiety, depression, inflammation, joint pains, etc. This is where CBD treatment must enter. If you live in America, chances are that you know about the therapeutic measures that people have found in CBD. It is being used as an alternative treatment for the above-mentioned problems and more.
Even though there aren't any conclusive studies or research done in the area to prove its authenticity, people across the world are claiming that CBD consumption is really helping them get through many physical and mental problems. Thus, it is a natural way to get rid of some major problems. Only, now it is not humans but dogs that are availing the benefits of the same.
This brings us to the question, is it safe for dogs to consume CBD? Let's find out.
Last update on 2023-12-01 / Affiliate links / Images from Amazon Product Advertising API
How Cbd Helps In Dealing With Health Problems In Dogs?
There is still some confusion regarding how CBD works with the body to help it heal from different problems, but it has been monitored by the experts that the CBD interacts with the endocannabinoid system (ECS), found in both animals as well as humans, to bring a balance in the body.
This interaction also results in balancing of serotonin, known as the happy hormone. So, it is natural that the anxiety depression and other mental problems are treated with its regular consumption.
The Benefits Of Cbd In Dogs
Most old dogs suffer from anxiety and in worse cases, depression. There are also numerous cases of arthritis and other joint pains arising of old dogs' body. Separation anxiety is quite a common problem amongst pet dogs. So Cannabis radar came out with these CBD dog treats.
While there are only traditional medicines recommended by the experts to deal with these problems, CBD is being considered as an alternative medical treatment for the same. The best thing about this treatment is that it is natural, effective, and affordable by most people.
Thus, people are willing to give it a try. Below are some of the health benefits of CBD in dogs–
Treatment of anxiety and depression

Reduction in inflammation

Relief from joint and muscle pains

Relief in seizures

Relief from insomnia

Treatment of symptoms of cancer

Treatment of epilepsy

Treatment of other mental and emotional problems
So, Does It Make Your Dog High?
The answer to the question is no. No, your little friend doesn't get high or stoned due to CBD intake. The reason behind the same has been discussed below. CBD only carried less than 0.3% of THC—the 'high' inducing compound. Thus, it doesn't produce any kind of high, neither in humans nor in animals, in this case, dogs.
So, you can be relieved of this question. Your furry friend will be absolutely fine after taking the CBD dosage. Feel free to read more about CBD oil for dogs.
Is There Any Side-effect Of Cbd Seen In Dogs?
As of now, there has been no record of any side-effects found in dogs as a result of CBD consumption. To avoid any side effects or discomfort in your dog, it is advisable to give a limited amount of dosage to your friend,
Even so, if your dog shows the following signs after consuming CBD, then perhaps you should slow down on the CBD dosage.
Loss or change in appetite

Dizziness

Irritability

Change in sleeping patterns

Nausea

Fatigue

Increase in blood sugar levels
These symptoms usually go away within 2-3 days. If they don't, then it is recommended to pay your vet, a visit.
So, Is It Safe To For Your Dog To Consume Cbd?
CBD, even when it is in its pure state, is completely safe to consume by humans as well as animals. As per a report by World Health Organization (2017), CBD appears to be safe and well-tolerated by animals.
However, it is still important to focus on the quality of the product at the time of purchase. Since CBD market isn't regulated by the Food and Drug Administration, there are high chances that the quality of CBD products can be degraded by small companies. So, make sure that the CBD doesn't contain any foreign substance, and most importantly, does not contain more than 0.3% THC. The same should be written on the label. Also, it is important to know whether the bottle is third-lab party tested or not. Make sure that the company has obtained the Certificate of Analysis for the product. The certificate is issued by the third-party after the potency of the product.
According to the experts, they haven't found anything that's super alarming about the intake of CBD.
Closing Thoughts
Even though there haven't been any stories about CBD being harmful to dogs and other animals, it is still important to treat it as an alternative treatment for health problems. You should give it as a supplement to your furry friend. The reason behind this is simple—there is still a lot of research and study needed to prove the authenticity of the healing qualities of CBD.
Nonetheless, it is natural, affordable, and available in abundance. The best part is that the lack of research isn't stopping people from trying this organic medical therapy and the results are incredible! So, let's just hope that more research will show up with time and CBD will single-handedly treat all our health issues.